It's "How to Use Thursday"!
Feeling the pain and discomfort of an inflamed papule? Looking for help in preventing a pimple from erupting into a full-fledged facial nightmare? Well, then click on the link below to view a video titled "How to Properly Treat an Inflamed Papule" on
www.youtube.com/VivantSkin
- enjoy! Don't forget to subscribe to our channel for all the latest tips, tricks and more...
http://youtu.be/BLIxwzOgTjI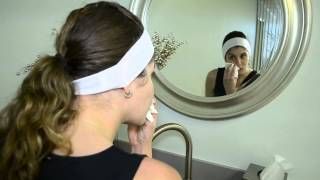 A
www.VivantSkinCare.com
production.
How to Spot Treat an Inflamed Papule
1. Cleanse and tone your face with the appropriate products as recommended by your skin care professional.
2. Using a cube of ice, place directly onto the papule for 10 minutes, taking 30 second breaks so that the cold does not burn the skin.
3. Using a therapeutic mask product, dab a small amount directly onto the papule.
4. Let the product dry and stand for at least 12 minutes.
5. Rinse thoroughly with lukewarm water.
6. Pat your face dry with a towel.
To order Vivant Skin Care skin care products, visit
http://vivantskincare.com
. To view other Vivant Skin Care tips including a 2-step extraction performed by Vivant Skin Care lead formulating consultant Dr. James Fulton, please visit
http://www.youtube.com/VivantSkin
.
Special thanks to
http://SocialBuzzTV.com
.